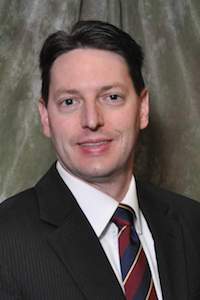 Michael Robert Rivers
Education
J.D., University of Dayton School of Law
Phi Delta Phi Legal Honor Fraternity | member and treasurer
B.A., State University of New York at Buffalo
Dual Major: Accounting and Financial Analysis Cum Laude National Golden Key Society University of Buffalo Accounting Association
Jurisdictions Admitted to Practice Washington State, 2017
Kentucky State, 2002
New York State, 2000

Professional & Bar Association Memberships
Washington State Bar Association
Member Since: 2017
King County Bar Association
Member Since: 2017
New York Bar Association
Member Since: 2000
Legal Experience
Rybak, Metzler & Grasso, PLLC | Batavia, New York 2010 – 2017
Attorney
Assisted hundreds of clients in all of their wealth retention and estate planning needs through evaluation of clients' present financial and personal health situation, family dynamic, and desired estate distribution.
Crafted full estate plans, including customized Wills, Powers of Attorney, and Health Care Proxies / Living Wills after helping clients calculate their personal net worth, expected income level, and future needs.
Protected assets through formation of single and multi-owner Limited Liability Companies.
Guided clients through the post-death estate administration process, including establishing estate bank accounts, marshalling and valuing all assets, filing estate tax returns as required, liquidating and distributing assets, and paying all bills and expenses.
Represented individuals in Civil Court, Criminal Court, Surrogate's Court, and Family Court.
Negotiated with opposing counsel and other parties to equitably resolve matters when possible.
Drafted purchase offers, deeds, amendments, legal notices, motions, and briefs.
Created customized database and word processor routines to better organize cases and expedite motion drafting and client contact letters.
Delivered presentations to various organizations regarding estate matters and elder law planning.
Oversaw staff in preparation and drafting of various legal documents and filings.
Department of Public Advocacy | Commonwealth of Kentucky 2000 – 2009
Attorney
Represented juveniles and adults in over 3,500 misdemeanor and felony cases in Juvenile Court, Family Court, District Court and Circuit Court proceedings, including bench trials and jury trials in over thirteen counties throughout the Commonwealth of Kentucky.
Consulted with clients about their pending legal needs and carried that advice over to their potential future needs after thorough discussion of relevant facts and researching pertinent statutory and case law.
Developed solid negotiating skills to obtain the best possible offers for clients.
Honed persuasive trial techniques to present the best case possible to judges and juries at all phases of trial.
Investigated and prepared cases for both bench and jury trials.
Trained new attorneys in proper indigent client representation, tailoring training to the proclivities of the prosecutors and presiding judges.
Legal and Community Engagement
Housing Justice Project | Kent, Washington 2017 – Present
Assisted low-income individuals in danger of losing their residences.
Genesee County Legal Assistance Corporation | Batavia, New York 2016 – 2017
Administered multi-attorney assignment program to represent clients when the county public defender's office had a conflict.
Regional Mock Trial Competition | Batavia, New York 2015 – 2017
Presided as Judge for the regional preliminary and final rounds of competition.
Chamber of Commerce Board of Directors | Batavia, New York 2012 – 2017
Chairman, Secretary
Participated in hiring committee in interviewing and hiring new president for the Chamber of Commerce after a national search.
Provided guidance as the Chamber transitioned from renting office space to purchasing and renovating new offices and visitor's center.
Richmond Memorial Library Board of Trustees | Batavia, New York 2013 – 2017
President, Vice President, Deputy Treasurer
Hired new library director who has expanded and modernized the library's offerings.
Supported library director in reviewing and honing the budget based on current offerings and expected requests of patrons.
Assisted grounds committee to remodel and enhance parking for safety of children and handicapped library users.
United Way of Genesee County Board of Directors | Batavia, New York 2014 – 2017
President, Vice President
Supported director in altering local United Way's funding of charities of last resort to programs more focused on prevention and education.
Interviewed local charities and allocated funds to best serve the needs of the community based on updated long-term mission.
Rotary Club of Batavia | Batavia, New York 2010 – 2017
Genesee Symphony Orchestra Board of Directors | Batavia, New York 2010 – 2014