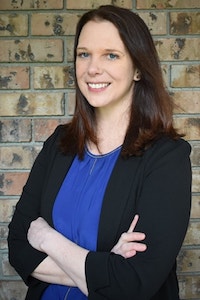 Sarah Elizabeth Hovland
Sarah is a person (who happens to also be an attorney) fueled by compassion, curiosity, and the desire to see justice prevail. She started her path towards the legal profession at age 7 when she negotiated her first deal: to stay up past her bedtime. She did not win. Several decades later, she applied this and many other life lessons to the practice of law. In her spare time, you can find Sarah at the local dog park trying and failing to get her dog to fetch a tennis ball, playing on the water, listening to music, travelling around this beautiful state of ours, and sleeping.
Education
J.D., Gonzaga University School of Law, 2008

Dean's Academic Honors List, 2008.
Vice President, International Law Society, 2007-2008.
Legal Internship, Irish Business and Employer's Confederation, Dublin, Ireland, 2007.
Study Abroad, International Media Law Program, London, England, 2006.
L.L.M., University of Warwick School of Law, England, 2009

Graduated with Distinction, Masters of Law in International Development Law
B.A., University of Washington, 2004
Jurisdictions Admitted to Practice Washington, 2010
United States District Court, Western District of Washington, 2014

Professional & Bar Association Memberships
State Bar of Washington
Member Since: 2010
King, Snohomish, Pierce and Thurston County Bar Associations
Member Since: 2011-2013
Legal Experience
The Redford Law Firm, Olympia, WA November 2011 – December 2013
Associate Attorney
Extensive experience in all facets of family law litigation, including complex dissolution matters, domestic violence, anti-harassment, non-parental custody, registered domestic partnerships, parentage, military divorce issues, writs of habeas corpus, parenting plan modifications, child support disputes, significant asset dissolution.
Large caseload, including actions in the Washington Court of Appeals Division II, King, Pierce, Snohomish, Thurston, Mason, Grays Harbor, Pacific, Lewis, Kitsap, and Clark counties, and the Office of Administrative Hearings.
Representation in all aspects of litigation, including client consultations, drafting pleadings, motions, declarations, legal memoranda, settlement offers, frequent presence in Superior Court for oral argument, engaging in alternative dispute resolution, propounding and answering discovery, assembling trial briefs and notebooks, representing clients at trial, post- trial hearings, and appeals.
Unemployment Law Project, Seattle, WA 2010 – 2011
Volunteer Attorney
Named Outstanding Volunteer 2011.
Provided representation in unemployment benefits hearings and appeals through research and drafting of pleadings, legal memoranda, evidence submission, researching and preparing briefs for appeal.
Conducted opening and closing arguments, direct and cross examinations for client benefit hearings and appeals before administrative law judges.
University Legal Assistance, Spokane, WA 2006 – 2008
Rule 9 Legal Intern
Advocated successfully for client before the Governor's Clemency and Pardons Board.
Drafted petitions, affidavits, and other supporting documents in preparation for clemency hearing.
Drafted complaints related to employment law, contract law, estate planning, and family law matters.
Featured Pro Bono Activities
Pro Bono award: 2012 and 2013, pro bono award, Washington State Bar Association
Outstanding Volunteer: named Outstanding Volunteer, Unemployment Law Project, 2011