Kirkland Divorce
Our Kirkland Divorce Attorneys can Help You with Difficult Divorce and Family Law Situations.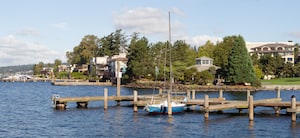 If you're considering a divorce, you are not alone. Marriages fail for many different reasons, and even when married couples still care for one another, a divorce might be the best way to move on with the rest of their lives. If you are considering a divorce, or a complicated family law issue, our Kirkland divorce attorneys can help. Still, it's important to realize that a divorce is never easy. You may have to make some of the most difficult decisions of your life. Throughout this process, your Kirkland divorce lawyer will offer you reliable counsel that will prove invaluable.
Whether you and your spouse agree or disagree on important divorce-related topics, ending a marriage can impact you both emotionally and financially. When you first begin the divorce process, or must deal with some other family law matter, your lawyer will want to find out your goals. The choices you make will affect your life and the life of your children for many years to come. For this reason, it's important to seek professional counsel from a Kirkland family law lawyer who has experience in this legal arena.
When you begin working with one of our Kirkland divorce lawyers, they will ascertain your most important goals, and then devise a strategy to see them come to fruition. Our law firm has more than 5 decades of collective experience handling nearly every aspect of Washington family law, including issues involving child custody, parenting plans, alimony, and paternity.
Start getting a clearer understanding of Washington family law today by talking to one of our Kirkland divorce lawyers, and take the first step toward a new and better life.
Kirkland Washington, the Family Court, and You
Kirkland is located in King County, and with a population of almost 90,000 it is one of the largest suburbs of Seattle. Kirkland's Downtown waterfront area boasts a number of great parks, beaches, and public art displays that make it a culturally significant region. The city gets its name from a British man named Peter Kirk, who realized that the area was the perfect place to start a steel mill. Despite decades of trying, Kirk was never able to construct a working steel mill, bur more than a century later his namesake city would appear on the labels of bottled water all over the country.
There is no shortage of things to do in Kirkland, but if you love the outdoors, you are in for a real treat. Saint Edward State Park is popular with residents, and people who can't enough horseback riding enjoy the trails in Bridle Trails State Park. For more information about the local Kirkland government and a nice overview of what the city has to offer business owners, check out their government website.
As nice as Kirkland is, sometimes families break apart and married couples seek a divorce. If you're living in Kirkland and are forced to deal with a serious family law matter, you will petition the King County Family Court , which is part of the Superior Court of the same name. If you check out the link you will find some useful information about divorce, adoption, alimony, and many other related topics. When you're ready to take the next step, our Kirkland divorce lawyers are ready to help.
Basic Information About Common Kirkland Family Law and Divorce Issues
Most people seeking a divorce or dealing with a family law matter have little idea how the courts operate. Many have never even been inside of a courtroom, and what you see on television is nothing what it's really like. Your situation is unique and will require careful attention from a qualified lawyer. However, we prepared the following information as an overview to some of the more common divorce-related topics that our attorneys routinely handle.
Child custody is one of the most difficult aspects of any divorce, and dealing with the issue can lead to much emotional upheaval. The prospect of losing daily contact with your children can cause you to panic. When both parents seek primary custody of their kids, negotiations can become a contentious affair where each refuses to compromise in any way. Digging in your heels will usually backfire. If a custody agreement isn't reached, the court will work out the details and the end result may be far less than ideal.
We urge clients to keep a cool head during divorce negotiations, especially in regards to custody issues. This isn't always easy, but it's a little easier when you have guidance from an experienced Kirkland child custody lawyer who has dealt with similar situations countless times before. We also handle child custody situations where paternity must be established, so if you have any questions regarding this matter please contact us immediately.
Child support is another difficult part of divorce negotiations, although the court provides schedules that help us determine what the monthly dollar amount may be. Other mitigating circumstances may come into play, but often the primary custodial parent receives support from the other parent. To find out whether you qualify for child support, or figure out whether you will have to pay, simply contact our law office. One of our Kirkland child support lawyers are ready to help.
Spousal support is more commonly referred to as alimony, and it's not something anyone is eager to pay. Still, depending on the nature and duration of your marriage, you may be required to pay alimony to your ex. You may also qualify to receive it. Your Kirkland spousal support lawyer will ask you a series of questions about the nature of your marriage and finances to help you get a better idea of what to expect.
Divorce for men is just as important as it is for women, but men are often worried about whether they will be treated as equals to their former partner. The reason for this is because women used to be shown preferential treatment in regards to child custody issues (and sometimes other issues). This is not the case anymore, but you should still talk to one of our Kirkland divorce for men lawyers to ensure that your rights are protected regardless of your gender.
Protection order and restraining orders are used to prevent abuse in situations where a spouse or child has become the target of their partner. Even verbal threats constitute abuse according to the law, and sometimes emotions run high when one partner tells the other they want a divorce. Sometimes abuse has been going on for years. Either way, these legal tools are available to help you end abuse and get a fresh start in life. Our Kirkland protection order lawyers offer a confidential consultation, so you can get the facts before you take any official legal action.
Modifications of support are often sought when someone encounters a life-altering situations that negatively affects their finances. Losing a job or getting really sick are two possibilities, but the court will ultimately decide whether a support modification will be granted. These are complex family law issues that require an in-depth knowledge of the law. If you would like to inquire whether you can petition the court for this type of action, contact one of our Kirkland support modification lawyers today.
You may be facing some other family law issue not listed above, but we can still help. Contact our office or review other pages on this website to get the information your looking for. Remember, your initial consultation is free.
Our Kirkland Divorce Lawyers will do Everything They can to Resolve Your Case is a Timely Manner.
Once your goals and objectives, are clearly defined, the next step is to work with your Kirkland divorce attorney to prepare for negotiations. We value relationships with our Kirkland family law clients that are built around trust, and this proves invaluable when sensitive issues or points of contention arise. You will find that building trust with our legal team is easy, because every lawyer will give your case the personalized attention it demands.
Everyone on our Kirkland legal team also practices a compassionate approach to litigation. We understand how emotionally devastating the process can be, and we work with professional partners that can help you cope with this difficult transition.
Our Kirkland divorce lawyers also answer all correspondence in a timely manner, and will treat you with the professional courtesy that you deserve. You can contact our law office today for a free case evaluation. One of our WA State divorce lawyers will answer your questions in a confidential atmosphere, so that you can gather information that will help you take the next step in your life.
Your choice of King County family law attorney matters and it may even affect the outcome of your divorce case. Don't take any chances with your future – contact us today for your free divorce consultation.