Child Support in Bellevue
Your Child's Security May Depend on Help from Our Bellevue Child Support Lawyers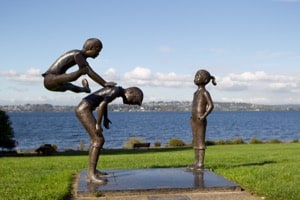 During a divorce, no issue is as important, or as potentially contentious, as issues involving support of a child. Child support issues can make emotions run high during negotiations, but our qualified Bellevue support lawyers can help you remain focused on what truly matters – the well being of your child.
Washington State family law is clear in its requirement that both parents provide support for their children, even after a divorce. A parenting plan swill outline support requirements from each parent, and this document must be followed to the letter. Failure to do so could prompt the court to find the neglectful parent in contempt, which should be avoided at all costs. Make sure you're well versed in your legal rights while working on your parenting plan by working with Bellevue child support attorneys who fully understand the stakes.
With more than fifty years of combined legal experience, there are few situations that the Bellevue child support lawyers at the Washington Family Law Group haven't witnessed firsthand. Most of our clients are eager to find out their level of child support, but there are many factors to consider before we can provide an answer. The family court in King county will take a hard look at each parent's personal situation, the total number of children and their ages, the cost of raising them, and each parent's annual income. Other pertinent factors may also apply, so speak with one of our experienced support lawyers in Bellevue about your situation so that we can help you take the next step.
Our experienced Bellevue child-support attorneys are ready to help you no matter how complex your situation may be, and it all starts with a free consultation.
Other Factors that Influence Child Support
Determining a level of child support can be tricky, and the factors relevant to every situation may vary in many different ways. While income plays a role in determining child support amounts, it's not the sole factor considered.
The source of a parent's income may also be relevant. The court may also be influenced by whether a parent has children from another relationship, or their level of debt. A parent's medical problems may also be factored into the equation, and special needs of the child will also be addressed by the court. Other factors could increase or decrease the dollar amount of child support payments, so your attorney will take a hard look at your finances to figure out what that amount may be.
Even after a parenting plan is finalized, the court may consider a modification of support. If one parent becomes seriously ill, loses their job, or encounters some other economic burden, the level of support may be increased or decreased. If you have any questions relative to child support, contact a King County child support lawyer for more detailed information.
If you are responsible for monthly child support, make sure to keep up with your payments. If something changes in your financial situation, check out the page on Support Modifications on this site, and be sure to contact one of our helpful attorneys without delay.
Our Support Lawyers In Bellevue Offer A Free Child Support Consultation
Our Washington State support lawyers can help you in two distinct ways: First, they will provide you with reliable legal counsel. Next, they will help you deal with the emotional turmoil that often accompanies sensitive divorce issues like child support. This compassionate approach to law helps you make more informed choices by urging civil discourse with your ex-spouse, and this is always in the best interests of your child.
After defining your goals in regard to your child, your Bellevue support lawyer will work hard to attain them and always keep you informed of every development. Artful negotiations and creative litigation with your ex-spouse and their attorney may lead to a favorable resolution of your case. If they refuse to treat you fairly, we aren't afraid to take your case to trial.
Schedule a free consultation with one of our Bellevue child support attorneys today by contacting our Washington law office. One of our skilled attorneys will return your call within 24 hours, and then you can get some answers to your most pressing support related questions.