Child Custody in Bellevue
Our Bellevue Custody Lawyers are Ready to Help You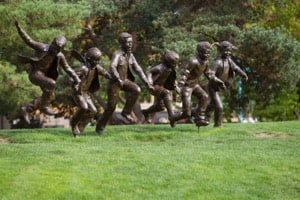 Child custody issues are often a heart-wrenching part of a divorce, and it sometimes requires making difficult choices. Emotions can run high as negotiations with an ex-spouse progress, especially when one or both parties fear losing daily contact with their children. Some tough choices concerning child custody, visitation rights, and financial support of the child will all need to be addressed as a parenting plan is crafted. For something this important, you need to work with a lawyer whom you implicitly trust.
The Bellevue child custody lawyers at the Washington Family Law Group are ready to help you manage this difficult process, and it all starts with a free consultation.
The court requires that you and your ex-partner make custody decisions with your child's best interests in mind. This may not be easy, especially if you have different opinions about how they should be raised. Responsible parents want their children to lead happy, productive lives, so it makes sense to work with King County child custody lawyers who will help guide you to better decision making.
Our Bellevue custody lawyers are ready to address your concerns, define a series of goals, and then determine how best to achieve those goals. If you choose our Bellevue legal team to represent your legal interests, we will be at your side throughout the most difficult parts of divorce negotiations. Our custody lawyers in Bellevue will provide you with honest counsel when difficult choices need to be made. We may not always tell you what you want to hear in regards to child custody, but we will tell you what you need to hear.
Your King County Custody Lawyer will Help You Craft a Parenting Plan
What is a parenting plan? It's a document that outlines all parental responsibilities after a divorce is finalized, including support, visitation, and custody. You and your ex-partner will likely also have to address how future disputes are settled and how decisions will be made on behalf of the children.
Working out the details of a parenting plan is on of the most challenging aspects of divorce negotiations, so our Bellevue child custody attorneys urge every client to maintain honest communication with their ex-partner. If proceedings become contentious, our Bellevue child custody attorneys will help you regain focus in an effort to keep negotiations on track.
The counsel we provide will be based on the goals that you define, but we will also tell you when those goals may be unrealistic. In this way, your Bellevue lawyer works with you to ensure that your children's welfare is fully protected.
Resolving child custody issues requires creative litigation because every divorce is unique. Sometimes negotiations can turn ugly, but our Washington child custody lawyers will urge you to maintain civility by keeping you focused your children's needs. If finding common ground with your ex-partner proves impossible, a judge will be the person that makes decisions regarding your child's future, and we believe this is a result best avoided.
If your ex-spouse and their attorney act unreasonably and refuse to treat you fairly, our Bellevue child custody attorneys won't hesitate to take your case to trial.
Get A Free Consultation From One Of Our Qualified Custody Attorneys In Bellevue
At the Washington Family Law Group, we realize that your child's custody is important to you. The very idea of losing daily contact with a child can be devastating, but it's important to remain focused and work toward an agreement that is fair to both parents. It's not always easy to remain calm when so much is at stake, but your attorney will compassionately guide you towards these ends.
Contact our law office in Bellevue today, and take advantage of our free consultation offer. Talk to a qualified Bellevue lawyer who can address your most pressing child custody questions and offer a listening ear when you need it most. Our experience with complex child custody situations will help you work toward the resolution of your divorce case while acting in the best interests of your children. Our Bellevue custody lawyers will fight to protect your children's future by crafting a parenting plan that is fair and well balanced.