Olympia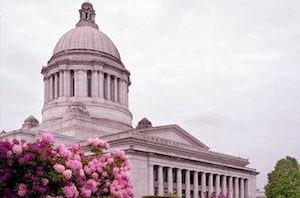 If you are considering divorce or have been served with divorce papers and are worried about the future, contact our law office today for a contact us. Separating from your spouse is a difficult situation for anyone, especially when there are children involved. Our family law attorneys can give you the help you need.
Family Law Attorney, Laurie G. Robertson and her Team can Answer Your Questions Regarding Marriage Dissolution and Family Law Matters
It is very likely that you have many questions running through your mind and you are probably worried about the future. common concerns include:
Who will our children live with before things are settled?
How will we go about separating our assets that we have accumulated together?
Who is going to pay the bills?
Can I take my vehicle without there being any repercussions before our separation is finalized?
Can I prevent my spouse from withdrawing our money from our shared bank accounts?
What about our home? Who is allowed to stay?
Why it's Best to not Play the Role of Your own Divorce Attorney
Having one of our attorneys handle the intricacies of your divorce will always be the better option so as to avoid costly mistakes that could haunt you for years to come. Handling things yourself may sound like a good idea at first, but acting as your own divorce attorney will put important matters at risk such as child custody, asset division, determination of spousal maintenance or child support payments, and so much more.
Having one of our skilled divorce attorneys will allow you to rest assured that you will receive professional legal guidance, answers to your every concern, and have an advocate who will stand by your side throughout the entire divorce process. Our family law attorneys make the choice to hire a professional easy, and clients never regret their decision to do so.
Our Divorce Attorneys in Olympia, WA for a Phone Contact us
You have nothing to lose when it comes to speaking with one of our attorneys. During your first initial contact us you will receive valuable knowledge and a clear picture of the steps that need to be taken to achieve your goals and put your marriage dissolution behind you. An initial contact us with a divorce attorney will give you a feel for who we are, as well as how we can give you the relief of having a experienced divorce attorney on your side in and outside of court. There are many situations that a divorce can create, and whether you can work with your spouse amicably, or need to battle over issues in court, our seasoned lawyers will put their skills of negotiation and litigation to use while helping you to achieve your goals. (360) 753-5551.
What you can Expect When you Call us
No matter whether we speak over the phone or in person, you can always expect friendly, compassionate and professional service from the legal team at our firm. You will be treated with the utmost respect and receive the personal attention that you need during these difficult times. We will listen first so that we can obtain a clear picture of your objectives, and answer all your questions accurately. We believe in strong communication, and a solid working relationship built on trust and results.
Here are a few of the matters we can help you with:
Olympia divorce and family law matters
Paternity cases
Legal separation
Olympia child visitation rights
Olympia modification and/or enforcement of orders
Large marital estate matters
Complex property cases
Business evaluation matters
Following the Finalization of Your Divorce
We believe in helping clients even after your case has been finalized. Upon your request, we will be more than willing to provide you with informative resources that can help in a vast array of family and financial matters. Our attorneys will also be here to help you if you need assistance with modifying your orders as life's circumstances change for you and your family.